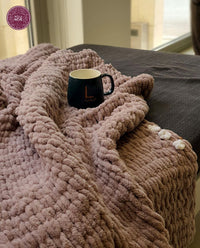 If you're looking for a gorgeous and comfortable chunky blanket or a throw, you've found the right place.

Our blankets are made from the luxury puffy yarns. The yarn makes the blanket extra soft, warm and cozy. Our puffy yarns is very fluffy and thick so it always looks great.
Our blankets are specially made for you with love and you can almost feel it when you touch them ♡.

They look beautiful and will bring something very special to every home. Add a touch of style, warmth and sophistication to your living room or bedroom.